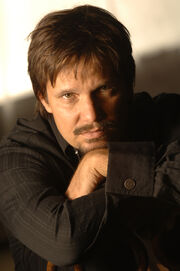 Ted Dekker (born October 24, 1962) is a New York Times best-selling author of more than twenty novels. He is best known for his science fiction, Christian fiction, and fantasy novels, although he has also written a few non-fiction books. Other genres he has written in include thriller, horror, mystery and suspense. His novels are fast-paced and include surprising twists, unusual characters, and confrontations between good and evil. Dekker is the author of The Books of History Chronicles, some of which he has co-written with Kaci Hill and Frank Peretti.
Ad blocker interference detected!
Wikia is a free-to-use site that makes money from advertising. We have a modified experience for viewers using ad blockers

Wikia is not accessible if you've made further modifications. Remove the custom ad blocker rule(s) and the page will load as expected.